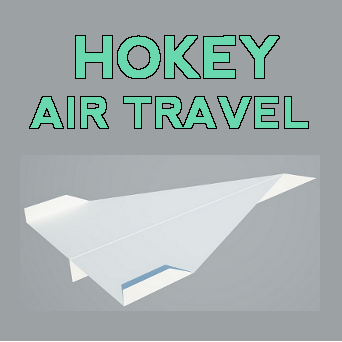 For those of you who don't know, I run some music related stuff over at h0key.net.  Part of what I besides chronicling concerts is actually making music.  My schedule fills up fast so more often than not, I run out of time exploring.  Enter the RPM Challenge.  It's a February long challenge to produce an album.  No strings, no expectations, and no real quality levels.  Just make.  This year was my second crack at it and it ended being a much different experience.
Last year I had way more time.  This year, not so much.  Because of all that extra time, I took to task some mixing and mastering.  You know, really shape the sounds and make sure they play nicely with each other over the speakers.  I did nothing of the sort this time around.  It was just a straight dump from a an audio workstation straight to disk.
Traveling was a big theme for me this year.  I had people in town and I skirted on to Vegas for my bachelor party.  I guess that's why it's called Air Travel.  Lots of these tunes were done on the road for me or my loved ones.  In fact the big producer of music for me this year was the iPod Touch.
I ended up leaning on a combination of Propellerhead Figure, DM1, and FL Studio Mobile.  I think I tossed some other things in there, but it was those three apps that really fleshed out my voice for this RPM Challenge.  FL Studio Mobile may ring a bell for some of you out there as it is an extension of the what used to Fruity Loops on the desktop.  I'm most comfortable in its interface than any other DAW on the iPod.
Figure, however, is something everyone needs to get.  If you have an iPod Touch, it's worth $1 to plunk down and try out for yourself.  The intuitive nature of the interface makes it easy to punch up any of the three different types of sound available.  You get the choice of Drums, Bass, and Lead.  It's way too easy and way too much fun.
It wasn't all snaps and bleeps and clicks however.  I missed out on Ableton Live work as well as not as many live parts coming in.  On one song I did get to rock the Kalimba, but outside of that it was all programmed and perform on a computer.  I also missed out on using my self-built MIDI controller called the Boomawang.  I guess I have some things to work on now.
But that's the fun of the RPM Challenge.  You start in with an idea of what you want to do and it ends up being completely different.  The only real pressure was the time.  And that's healthy pressure.  I already and planning on knocking out more stuff from my missed goal list and am coming up with more goodies for next February.