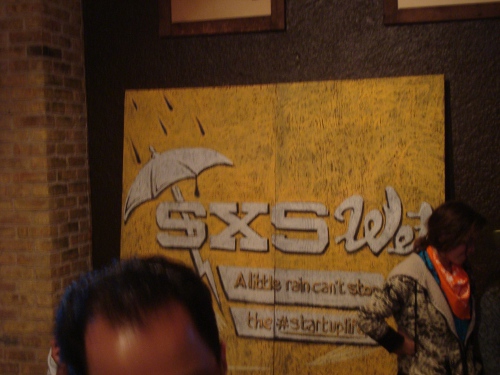 Yes, another wet day down here in Austin and I survived it.  This time around the buses ran on time and we actually ended up early to the convention center.  The rain came and went all day but it did not slow me down from catching some awesome panels.  Friday was more higher level talk in working and in design.  So Saturday I tried to hit up more technical workshops.  Some worked and some failed.  But I bounced where I needed to bounce and got some tasty amenities along the way.
So yes the bus ran on time.  I messed up and thought the all day events were actual sessions so we showed up a little too early in the morning.  It gave me time to get some coffee and hang out at Circus Mashimus.  The whole story behind that area are companies looking for API type work and even companies that provide API design for said API type work.  It was late opening up but I got in there for the bloody mary and skeeballed my way to a free T-Shirt (the count now is up to 4 or 5).  I learned something about Rovi, which is an EchoNest type service for music, audio, video, and any forms of entertainment/media.
But let's get to the sessions and for now I will bullet point it due to DST:
The first talk of the day saw some guy from NetBiscuits unveil a new framework for ubiquitous touch and gesture control.  It's not JavaScript, it's markup.  The big selling point was 70 lines of code that translated to 300 for a mobile browser implementation.  The idea looks pretty cool but I'm not sold on it just yet.  Granted they will save time for me trying to code for browsers and mobile platforms, but what I understand of frameworks is that the layer of abstraction slows things down.
Next up was building Accessible HTML5 Canvas objects.  Demo and session fail.  I know it's important but it wasn't a good fit for me.  I was interested in how to use Canvas but I didn't get that in the first 15 minutes of the talk.  So I headed over to the Hilton and watched a developer from Flipboard talk about best strategies for native and webapp development.  It was only question and answer by the time I got there but the conversation provided a few tips.
I headed back to the Radison to check out Building Great Games in HTML5.  The speaker for that talk works at Opera and showed off how he and a team of interns ported over C++ to JavaScript/HTML5 for a game.  I'm into figuring out a way to build synthesizers in the browser and while game dev does not fall under, the graphics portion for this talk gave great insight into what I want to do.  Yes, it was all sprites, atlases, Canvas, and WebGL.  Great talk.
The Twitter and Netflix under the hood talk was awesome.  Granted is was all Cassandra, but the panel did point toward an era of toolbox implementations just for Big Data and databases themselves.  There's no one solution (sorry Oracle).  I also thought it was cool to see Twitter admit that they use Redis.  The questions from session attendees also grilled the panel enough without burning.  This might've been the best one of the day.
The last talk of the day for me was Rainn Wilson pimping his Soul Pancake website.  It was funny and entertaining in a Ze Frank kind of way.  I was a little uneasy when Rainn talked about the influence of religion on his journey but I got over it in time to watch him bring somebody up from the the crowd to smash guitars on the stage.  Definitely the feel good moment of SXSW so far.
So that was the panels.  Sunday, I see more Kinect and workshop type stuff so I'll know I'll be busy.  The parties Saturday night were off the chain.  I don't even remember the happy hour.  The Interactive Opening Party was once again amazing, thanks to Frog Design and new co-sponsor Microsoft.  That party gets better every year.  We called it an early night due to DST and I'm glad we did.  We need to conserve out energy for the rough and tumble of music later on next week.  I know I'll get better sleep tonight and I'll be ready to rock out on a hopefully drier day Sunday.