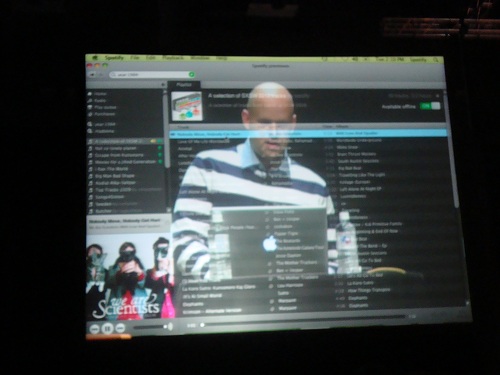 Day 5 of this mish mash of culture here in Austin and SXSW left me experiencing a true intermission.  The Ineractive portion winded down while the Music portion is winding up.  I took the opportunity to head out the lobby and get myself a drink.  Speaking of drink, the early morning rain scared us from walking to SXSW and we ended up taking a cab to catch the afternoon's events.  Even though I had a small number of panels, it ended up being very beneficial and marked a great transition to the Music portion of the show.   Oh, and the closing party rocked.
The previously mentioned rain held us up big time in the morning.  Combined with the wickedly awesome Computer Blip Blop Bull@#$% party we were rained on from last night, and this guy had the beginning of a small chest cold.  So we piled into the car and now I'm currently rocking the Zicam and Airborne.  Works every time.  So, after an hour or so of blogging and recovery, we hailed a taxi via phone and headed to the convention center.
The first stop of the day marked my first keynote address.  Me and my lovely girlfriend got a prime seat to watch Daniel Ek talk about his UK only music app, Spotify.  Not many people knew of this service before and when the demo went through, the oohs and ahhs confirmed it.  Ek talked about the liquidy of music and developing a platform that handles the fragmented liquidy of the music industry.  We also got a chance to check out a live demo of the new Spotify running on an Android phone that Sony was putting out.  The keynote informed and entertained and I'm glad we had a chance to get an overview of an app that will definitely give iTunes a run.
Next up was a quick panel on mobile advertising.  Now, I'm not the advertising guru, but being that I'm here to check out all thinhs mobile app development, I needed to see some business views revolving around it.   So Dennis Crowley from Foursquare fame and a representative from Mocospace (the original guy couldn't make it) talked about strategies they employ to get business to do ad buys for their phone apps.  What I got from Mocospace's talk was how traditional mobile apps work with companies to do targeted ads based on demographics for mobile phone users and using the platform to do some media promotions as well.
Crowley's side of it was fascinating.  Foursquare created a new platform that behaves its own way.  So they sell ads, while they are in the middle of figuring out their business model, in a non traditional way.  Crowley also talked about how they have very little in terms of resources going toward sales reps.  The reason is that the users of the app are pushing the local business to do the Foursquare based specials.  So one hand, I got a view of advertising on a traditional model and on the other I got to peer into how a new platform evolves its advertising model.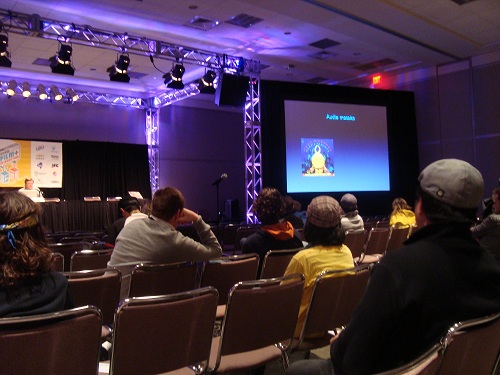 The final panel for my Interactive portion was perfect for transitioning to the Music.  I sat on the Remixing for the Masses panel ran by Paul Lamere from EchoNest.  If you don't know who he or the company is, go chekc out the More Cowbell app and come back.  So Lamere started out the panel talking about the differences between remixing, sampling, and mashups.  Girl Talk was the apex of these methods and we got to see a quick video of how he does it.  He then asks, how can that be made easier?  With the stuff he showed off from EchoNest, I believe that it will be.
Lamere demoed what EchoNest software can do in terms of combining Digital Signal Processing and Natural Language Processing and producing new ways to cut up software.  He showed off using some Python code to select the first bar of a song and cutting it out without degradation.  He showed that they can take each beat and flip it in reverse piecewise.  I saw him combing audio and video to select the vocals of a Nickleback song and place them in the same song to make it sound the same.  I could go on with the rest but I gotta say you have to check it out for yourself.  And, yes, they have a live performance version in their labs.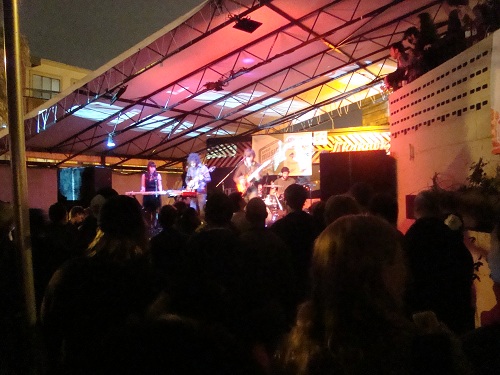 After the panel, we had the opportunity to check out a real movie for the Film portion.  Skeletons is the Scottish version of Being John Malkovich.  It had an endearing quality while not being to goofy or silly.  Check it out when it comes out in your town.  Then we headed out to the Mohawk for the Media Temple and SXSW Interactive closing party.  Hey, when you have free PBR tall boys and some kick ass Alt-Mariachi music, you know it's a good time.
So that's it.  That was the Interactive portion.  What did I come away with?  Well, discovery was the goal and I laid my eyeballs on so much that I more than fulfilled that requirement.  I have tons more work to do when I get back because of it.  Awesome!  So now comes the time to celebrate by hitting up the Music portion.  I'll talk about some of the days events here, but I will also hit up music information on my music blog.  Keep tuned.