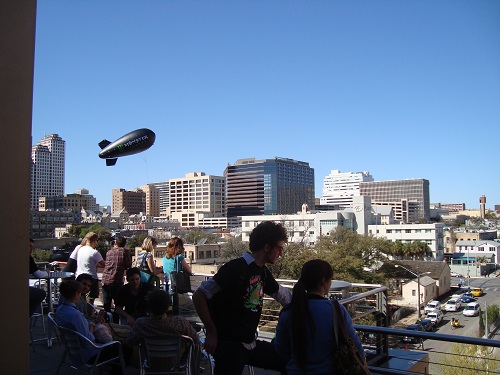 Whoah nelly, this guy it pooped!  Today was the first full day of conference snaction down here in Austin for SXSW and I now know what this whole thing is about.  From thoughtful collaboration, genuine inspiration, to a closing night ceremony, I finally experienced all that I imagined I would when attending this conference.  As I struggle to type out a recap of the day, I gotta smile a big grin.  To be this tired after day 2 means that I will exhaust myself to the limits and come away with a total conference experience.
We started the day hooking up the laptop lugger and pulling on toward Congress street for the morning jaunt.  I switched from the velcro wonder to the running shoes to make my walk more comfortable.  Apparently I developed a blister under my left foot last night and I'm still feeling it at this moment.  We stopped by Jo's on the way down and promptly decided to mark Jo's as the must stop coffee plop every day.  After the quick java jump, we made our way to the convention center for Day 2.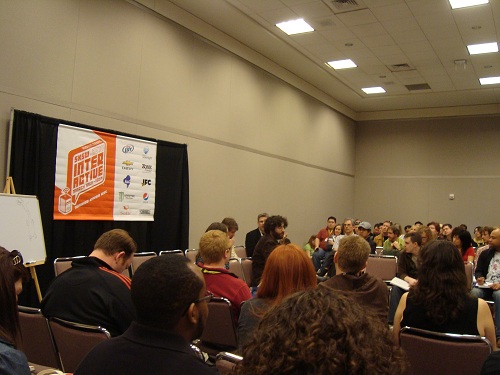 The girlfriend and I split up for the first session.  I went up to the 4th level to check out the How To Make a Living as a Blogger talk.  The panel featured Brian Fairbanks and Colleen Kane.  The unique feature of the panel was that it sported a community/town-hall type back and forth.  The whole panel basically stated that to make some money, you need to do a niche brand of blogging and proactively contact the companies/people you blog about to build business relationships.  I learned a good deal and got a strong foot hold to jump off whenever I decided to move my blogs in that direction.  I also ran into a 13 year old pro blogger but I will get into that in my post SXSW series.
After a quick bite at Champions, I headed over to the convention center again to check out Then Ten Commandments of User Experience.  This one was run by Raina Van Cleave and Nick Finck.  Here's my short take on this panel:  find new ways to make things simple for people to use stuff and deliver on it to the customer.  This panel was also the first of a three part workshop but I decided to skip the rest for other functions.  It was also pretty crowded on there and my bakc was killing me due ot the floor seating.  On to the next panel!
The last panel of the day saw me and my lovely girlfriend help pack the house to see the Ze Frank Conversation: The Creative Lifestyle.  Ze Frank, if you don't know,  is the master for internet interactive wizardry.  If you haven't seen his stuff, go do so now and come back here.  Ze Frank does a great job at pulling at your heart strings and making you life.  Scott Kirsner helped found out how he does it while doing an introspective/question answer session.  Panel of the conference so for for me.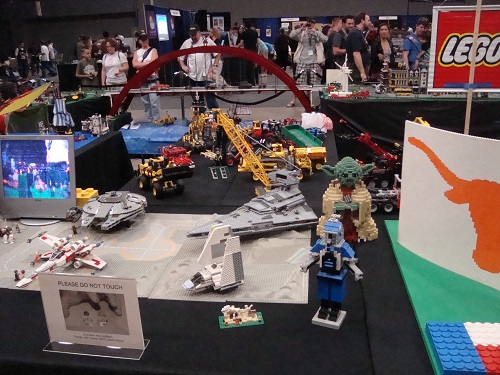 Now between these panels I had the chancce to take a gander at some of the other offerings the conference rolled out.  I dropped by the ScreenBurn Arcade and left a little disappointed.  The Legos were cool but the rest of the stuff was kinda meh.  The Trade Show opened up for the first time and I worked it for a good hour or so.  I dropped off cards, saw some 3d hd tv action, and got to check out some cool companes.  I also picked up some schwag but I didn't sell out for a mother load of schwag.  If I'm not interested in a product, I'm not going to talk to a guy about it to get the USB flash drive or shiny shirt.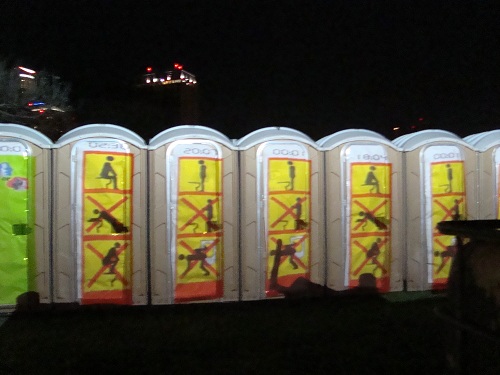 I met up with the girlfriend and we shimmyed on over to the SXSW Opening Night Party.  We missed out on all of the night time activity last night so we more than made up for it tonight.  Frog Design did a great job with some interactive light shows while they passed out some free drinks to help lube up the social.  When we walked in, they handed us some RFID tags.  We used them to keep track of how many drinks we had, time ourselves in the port a potty, and even mess with the light shows they projected.  It was stary eyed and magical.
When the decision came down to attend SXSW this year, I was nervous that it might not live up to my expectation.  Welp, after Day 2, let me saw it has been met and I'm ready for it to be exceeded.  I'll double back after the conference to go more in depth on some of the topics I'm covering as it's coming in just too fast.  In the meantime, I need to rest the rest the feet and get ready for another awesome day.