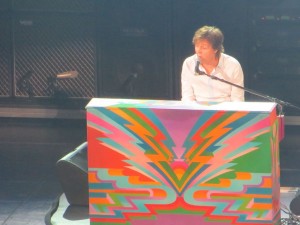 Sometimes for some shows, you pay the premium price of admission because the legend status the star brings in.  Most of the time what you get is a decent showcase of the classic songs and maybe a few new ones.  You're also left wondering if the huge ticket price was a worth it.  Paul McCartney ended up doing two shows at the Frank Erwin Center and I sneaked my way into the 2nd show.  Paul did not fall into that category.  He put on a helluva show.
So this was my first time at the Frank Ewrin Center.  It will probably be the last, unless I'm desperate.  I'm not sure if the facility was well suited to serve cold beer.  They tried, but failed miserably.  Warm tepid beer all around!  I think it was an afterthought because of it being a school facility.  Besides that major issue, the rest of the place was decent.  The age is showing and I'm not surprised of the whispers of its impending demise as a building.
At any rate, I wasn't there for the building, I was there for Paul McCartney.  So my wife asked who was opening up for him.  I didn't know and didn't bother to look it up.  I'm glad I didn't because he really didn't have an opening act.  Sure, some guy was out there spinning dance remixes to his songs but that doesn't count.  Mainly because it sounds like every other bad dance remixes of classic songs.  People, usually old people, feel that just throwing a beat behind a song and speeding up the tempo makes it a dance track.  Nope, it just makes it tacky.  Stop it.
So he was off and we were presented with a retrospective slide show thingy that lasted about 40 minutes.  The photos and graphics blended nicely but I did catch some repeats.  Overall, I think opening festivities worked well in setting the stage for Paul but it by no means stood out on its own.  If any major act had a prelude to a show, this was the primo example of how to do one.
Click here to view the embedded video.
Finally, it was time for Paul to come on out.  After about two songs, I knew it was going to be magic.  It reminded me alot of what John Fogerty did at his SXSW set this year.  Just a clean, cut, straight up performance of selections of Paul McCartney's music catalog.  I was really getting into it.  Then the show unfolded in front of us.
Stage lights, lasers, moving stages, all helped set the mood to different songs.  I didn't expect it at all.  So when the penultimate moment came and the damn stage nearly blew up during 'Live and Let Die', I leaped up and yelled "FUCK YEAH!"  I couldn't help myself.  Coming down from that and riding out other great stage moments wiped me out.  I've rarely been to a show when I was wiped out afterward.  Especially when sitting up in the nose bleeds and not standing in general admission.
It was well worth it.  I recommend anybody who has a chance to see Paul McCartney to do it quick.  The guy is 70 and can still put on a helluva show.  If I can do that when I get that age, it would be real magic too.