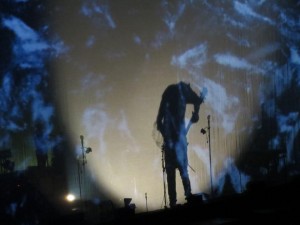 It was only right that a weekday after my best man showed up for the weekend that I had the opportunity to relax and recover with the soothing sounds of Sigur Ros.  Welp, it mostly happened.  I've seen them before at the Uptown Tehater in Kansas City way back when and remember such a jovial, quiet style.  I guess I didn't remember everything correctly.  They somehow managed to kick my ass in a completely eloquent style.
First off, let's talk about the Cedar Park Civic Center.  It's WAY up north of Austin and especially from where I live.  Apparently the arena hosts a multitude of minor sport teams from hockey and basketball.  Good for them.  More importantly, they have buffalo style chicken strips with a massive amount of fries.  While the strips were tasty, it was few.  I think they made up for it with the ginormous amount of fries that came with it.  Well that and the condiment cart that left lots of dippins free for the take.
First up for the night was the crowd warming Oneohtrix Point Never.  Okay, more like chilling.  His style, a laptop musician with experimental ambient beats, fits well at a local bar but just doesn't translate well to an arena.  Oh, I enjoyed the beats and how they trickled out, but I left wanting more of an intimate situation with them instead of sitting way back in the arena hearing echoes bounce off minor sport achievement banners.  I will make a note to check a club headlining tour with this guy.
Click here to view the embedded video.
Sigur Ros came up and kicked things off in their familiar, giant sheet with bright light set style.  I guessed that it was going to be that way for the whole show like in KC but was proved wrong (again) when the sheets came down and they opened up the show.  Boy did they open it up.  I was used to some of the classics, but I did not expect the full on harsh assault that existed in their new material.  Is it a reinvention?  Or mere evolution?  Doesn't matter to me, they do it with such a  genuine emotion that I believe in whatetever feeling that they are trying to get across.  That's a rare breed of band and you will not see it in even the biggest stadium sellers around.
It was a real treat being able to see Sigur Ros again.  Now, the next time they come, I'm not sure.  I know now what to get, in all of its sweet, genuine discourse but I'm not sure I want to ride it again.  The curtain thing is great but it's been overplayed.  It's all fantastic and I think everyone should go out and see it at least once.  But be sure to bring some tissue and perhaps extra napkins.