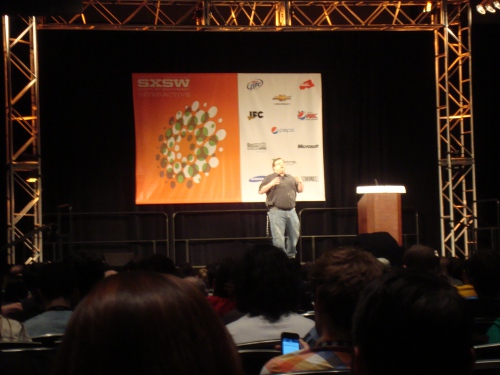 I'm a week removed from SXSW and I finally recovered.  The sickness stayed over in my body for the end of my music portion of the trip.  To learn more about that, head over to my music site, http://h0key.net.  I've had plenty of time to reflect on my interactive experience and would like to sum up the conference and what I took away from it.  For all of the stimulating action that took place in,out, and around the conference the message for me was:  Start cultivating the white noise.
Last year was my first year for SXSW.  The starry eyes was somewhat blinded and numbed to all of the commotion going on around them.  I went on my own volition and had no other sponsorship but myself.  It was clear that I was a rookie at it all and I ended up missing items I really wanted to see.  Hey, it just kept moving so I told myself that it's all good and go on to the next thing.  This year was a little different.
I knew how to plan better for SXSW. Sure the conference is still a bursting damn of activity, but I had a paddle this time.  The newness washed away to wonder as I noticed just how much bigger the conference got in one year.  Last year I pretty much stayed in the Austin Convention Center.  This year I was running at most 10 blocks to go from one hotel to the next and back to the convention center.  The Screenburn Arcade blew up.  There's now a fashion portion of the conference.  Even the exclusive startup launches were growing.
Last year it was a race between Foursquare and Gowalla for location supremecy.  This year's theme was group texting messaging.  I lost count on the number of startups all vying for the same mantle and I'm still confused as to who won.  Of course, there were other startups but it looked like just about everyone who wanted to launch pegged down SXSW as the place to do it.  That ended up just upping the bar for white noise at the conference.
Which alot of the naysayers were pointing too as a reason why the conference was weak this year.  Some people were saying that the conference is getting too big for anyone to make a big splash.  Apparently the locals have been saying that each aspect of SXSW is pulling its own little Burning Rome scenario.  Even for some, the exclusivity that was present in the conference's early years is gone and they detest the quasi-exclusive nature of the conference today.  That is their reaction to more and more noise being created at SXSW.
That's what I see this year.  The hype two years ago of Twitter that convinced me to go and the location battle of Gowalla and Foursquare of last year now leads to an enormous amount of new data and noise generation.  Of course, the noise brings many, so I was much more successful networking wise.  I skipped the film portion altogether due to the size of the lines and instead went to more parties, which grew in numbers as well.  Of all of the apps I downloaded this year I'll more than likely use only one or two.
What does all of this noise mean?  We're getting ready to make some sense of new types of information, either in viewing or understanding.  When I look back to the track I took for interactive talks, I can see that point overlap over most of the sessions.  Whether its using government data or music metadata, people are finding news ways to see how data is represented.  Mobile applications up front must be simple to see and use, all the while the data they generate is complex and ample.  Reid Hoffman's Web 3.0 presentation hit the nail on the head.  The a calm before the storm is the push to understand and make sense of this new social, mobile, and freshly revealed data.
So the next step for me is to roll up the sleeves and get to work.  With new data, there's new opportunity.  The most exciting takeaway from SXSW 2011 is that there's alot of new information out there and I have a chance to make a difference by making something special from it.  There's no longer a sense that I have to be the next Twitter or the next Foursquare.  There's a new revision of technology right around the corner and I'm getting ready to be apart of it instead of a bystander.