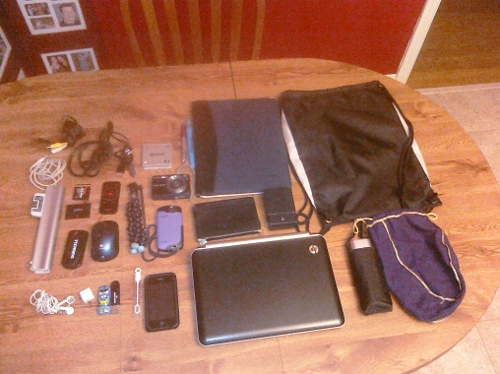 I'm not afraid to say that I like wrestling and I tend to keep up on what's going on with the squared circle. I've even hit up some local independent shows and got to know some professional wrestlers. That's fine. Please don't judge. My point is that with every professional wrestler there comes a gimmick bag. A gimmick bag is the gear that wrestle uses to get himself into character. Say Hacksaw Jim Duggan has his 2×4 or Kurt Angle his gold medals.
Well, it just so happens that I have a gimmick bag myself. No, not for the wrestling ring, but for the blogging ring! Some people call it gear bags, but come on, a gimmick bag sounds much more fun. What you see above is what will be lugged around my shoulders for about 10 days. Notice there isn't everything, but it should be enough for me to be mobile without having to shut one thing down completely. Here's the list:
First off, it's the shoulder bag. My lovely girlfriend acquired this guy. It's a travel pack bag with a front zipper and handy dandy mini pocket near the top. I also suspect that I will use the earbud hole alot during my treks in between talks.
The mini bags come from some other type of fun, but they will provide cushion and support for some of the items as well as help organize the cables.
The mini umbrella will be that go to emergency item to protect my weird trinkets
Folder with writing pad, pen, and highlighter. Seriously, even in today's world sometimes nothing beats the good ole fashion pen and paper. The highlighter will come in handy for marking new talks as well.
On top of that, it's my trusty Moleskine. It's no longer underground but it still has that sexy appeal. I think it's because that is the toughest type of notepad out there.
Business cards. I'm here to do business too, you know.
The HP dm1z will be my lifeline. This ultraportable is the first in the series of AMD Fusion laptops in the market. So far nothing beats its power and price. I had a bad memory module when I got it but it's not fixed and purring like a kitten. All 5 1/2 hours worth of purring, too.
The Sony Cybershot DS10 and the Kodak Playsport. I must record things. These two will provide the visuals (with some audio). The Cybershot's been with me since a Radiohead concert and I haven't looked back since. The Kodak Playsport looks to be the rugged HD pocketcam that Flip wished they could produce.
The iPhone 3gs. You know, this guy has no phone service attached to it. It's a long story but my point is that it's my glorified iPod Touch for the trip. My girlfriend has my real iPod Touch.
Batteries galore! I knocked an extra one out for the dm1z, the Playsport, and the Palm Pre (which is what I took the picture on). Just in case I have a Duracell mobile charger, which can charge some of these items via USB.
The Kodak Playsport will have some accessories included. Let's see here, I have a remote, a Gorilla Pod video stand, and some A/V cables for connectivity.
Speaking of cables, the rest fills out with a pair of earbuds, a USB cable with a micro type adapter, and an audio patch cable for audio situations.
Some wacky items include the Square payment dongle in case I make some money down in Austin. On top of that I have a multicard reader for the Cybershot. The two flash drives bring me some file sharing support.
Finally, I have bubbles. Because when you're not having fun, bubbles will always save the day. I'm not expecting to use this at all but you just never know.