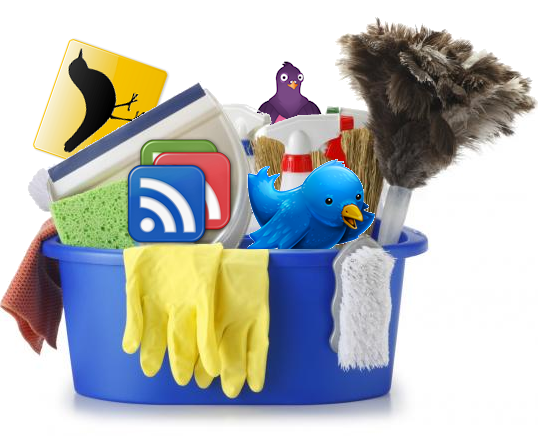 Now that I've fully recovered from SXSW, it's high time I start cleaning up.  The schwag mountain spilled over and caused some damage but I got it under control.  So now it's time to spring clean my workflow and social media usage.  I subscribe to this, follow that, or just end up trying to fill up big holes in my life with tiny sand distractions that it gets way too overwhelming, as I'm sure others can identify.  Once I realize that, then I know it's time to pare down my workflow and regroup.  It's not a perfect system, but when it comes time for a change I'm ready to make it.  So how am I doing this?  Glad you asked.
First off, Twitter, it's time I change my relationship with you.  You see, I enjoy trying to follow as many tweeps as I can to match some of the other D-Grade web celebs follow counts, but it's just not working out.  What happens is a undending stream of garbage and links to articles I already read.  True, you've had lists for a while but I'm sorry I didn't pay attention to you earlier.  That's okay.  I think the change will be made for the better for both of us.  That way, when we have conversations with each other, it can be meaningful.  Here's what's I'm doing.
The dribble will be cut out.  I'm going to use a couple of handy tools like JustUnfollow and Mr. Tweet to cut out the bad and bring in the good.  Most of the time when I tweet, I get no retweets, replies, or direct messages.  Now, part of that is my fault, but another part is the list of followers I have don't match my core values.  So while Tim Bray might stay, Verified Alf is outta here.  Also, if a tweep blasts out multiple links in spurts, I'm unfollowing them and I may even block them.  I will be ruthless so if you get unfollowed don't take it personally.  If you get blocked, then please take it personally.  Especially if you are an SEO Expert or social media marketer.
Because I fell so behind using lists, I will play some catch up to make them more important.  This will be built on the fly and will break out to a set of maybe 10 or 15.  That's about all I can handle.  Then I can check up on certain lists and be able to interject and interact with greater precision.
All of this in the name of meaningful usage.  Most people when they talk about Twitter, they get some kind of value of messaging people.  I don't nearly get as much bounce back as they do.  Even my girlfriend who recently converted is getting better usage than me.  So, I will cut down and build some lists that I can follow easier which will enable me to tweet more effectively.  Included in that effectiveness will be more personalized messages from my link tweets.
On to Google Reader.  Whatever gets missed in Twitter ends up in the RSS catcher.  So whenever I read blogs or hear suggestions of sites from others, I end up subscribing to more and more RSS feeds.  Fortunately with Reader's Trends section, I can see what I use on a more frequent basis and cut back on the feeds that I barely touch.  This again hits at matching my feeds to my core values.  It's easy to lose focus when I spread myself around so I need to keep myself in focus and in check.  It happens to all of us so it's always great to go back every once in a while and clean things up.
Next up, the desktop.  My laptop rocks the house.  It's a beefy Sony Vaio that already paid for itself many times over.  I can run so many things at once, it's a multitasker's dream.  The problem is that I usually have Pidgin and Tweetdeck up going and flowing.  It's incredibly easy to glance left or right on my screen to see what's coming and get distracted.  So what I will be doing is turning them off.  For some it's easy, but I have always had my instant messenger open in more than one location at all times since college.  That's 10 years.  So it will be a huge change.  I'm thinking that when it's time for a break, the starting and stopping of these programs will be a great physical switch.
It's amazingly easy to get distracted and let projects clutter up your mental space.  At least once a year, we need to clean it all up.  Much like our physical space, the junk in your mental space will make it harder to move around quickly and get projects done.  I encourage people to try these methods out to help clean up all mental junk.