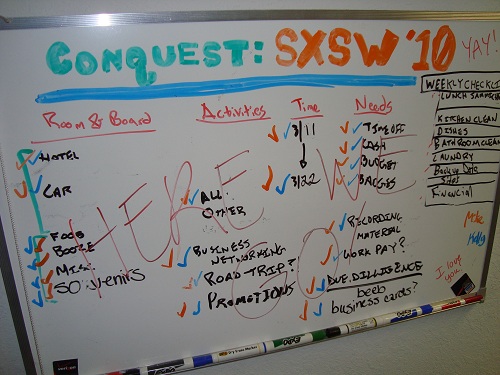 When my girlfriend suggested we drive down to Austin instead of fly, at first I was like, "huh?"  Waking up in Denton, Texas this morning I'm more like, "Huzzah!"  The conference festivities haven't started yet and already this trip has been fantastico.  We met some peeps along the way.  We ran into some crazy looking businesses.  We drove through the state of Oklahoma.  All good times.
The first leg of the trip saw us head out to Wichita where we met up with my buddy Tim who does the Gonzo Guys with me.  He moved out there for a new jobby job and we spent a good hour or two having lunch.   The place of eats?  Jimmie's Diner.  Diner food is the best when you are not hungry for the rest of the day after you eat.  That was the case when I had the Royal Crown burger and a peanut butter milkshake.  Oh and Wichita roads stink butt big time.
We tooled on down to Oklahoma and ran into a friend my girlfriend's with whom she used work with.  A quick detour to Ponca City saw us meet Joe and hang out at the Chili's.  Ponca City either is a dry town or the rules down in Oklahoma make it to where the local Chili's is the best bar in town.  At any rate, we had a great time with Joe and we were lucky enough to talk some smack on Oklahoma State right before Kansas State rolled them in Big 12 Basketball tournament.
The rest of the drive was kind of a blur.  The roads in Oklahoma were good but half the state's highways had construction going on.  No matter, we made it to Denton, Texas okay.  But not before we stopped to gamble here and there.  No, not in the big casinos that sprinkled the I-35, but the 'gaming centers' that either popped up next to the big boys or were framed with a gas station around.  Essentiallly the 'gaming center'  is a glorified slot machine facility.  Hey, it worked for me, I walked into the first one and won 70 bucks.  In and out in 3 minutes.
The trip doesn't certainly feel like it's been 3 minutes.  But it doesn't seem like it's been a day.  Already great times were had and we haven't even touched the tip of the trip.  We have a couple of more hours to go before Austin.  The girlfriend tells me that Mellow Mushroom is the bomb for pizza joints so we are heading there first.  Then it's on to the hotel and then SXSW!  Hopefully they have a 'gaming center' close by….