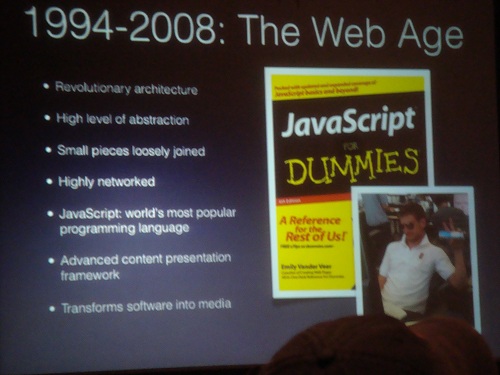 Yes, Tuesday was the last day of SXSW Interactive and I'm starting to get bogged down.  It's a good that all I have to do is drink more Red Bull and pop the ole collar here.  In all seriousness, the day's events for Tuesday went from learning to exploring to networking to partying.  My voice is gone and my legs are dead.  But it was all worth it to me.
The first panel brought great discussion in terms of choosing native or web app development for your product. They had some Facebook, Apple, Tumblr, and embr.js representatives. Eventually they came to the conclusion that going hybrid is the best for right now. We'll see how things change in the future.  And the Ember.js guy kept saying Bro.
Next up it was music tech day and I watched a panel on the future of music with a Spotify guy and the lead singer of Disturbed. It was a glorified commercial. But there were some decent points made about the loss of exposure with the loss of MTV .
So I ended the morning going to the Turntable.fm talk and their vision of the future of music, which was social.  IM glad the founder went over the history of  Turntable.fm through Stickybits. Sprinkled in between that and the big announcement that they are fully licensed were great tips for startups.  Very light and enjoyable talk.
So after lunch I decided to hit up the musictech mixer.  SoundCloud was there and I got to talk to Paul Lemere .  Before that I accidentally stumbled on the sxsw create event at the registrants lounge.  Lots of cool DIY electronics and very inspirational.  In fact, I met a whole host of great people at both events.
Finally it was time for interactive closing party. I was already a little toasty from the trade show.block party and took full advantage of the amenities during the show.  I'll talk more about the shows on h0key.net but for now I'll just say it was off the chain.  Thank you very much SXSW Interactive it was well worth it once again.