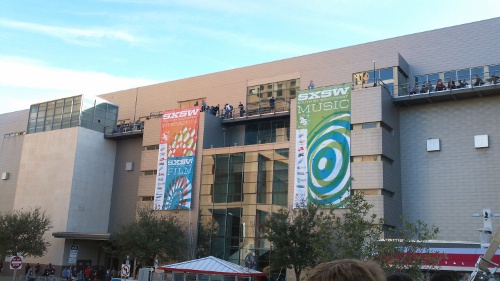 I'm back for another year of SXSW and I forgot just how quickly it takes a toll on the body. Fortunately for me and my girlfriend this year, we didn't putter into town during the beginning. So we had a great night's rest and had plenty of time to plot and scheme our way to a better kick off of SXSW. We even had time to kick back a couple of mixers and mingle with like minded folk in the evening.
First things first, though. We had to sight see. For me, sightseeing is going to Fry's Electronics. I've been there once in my life and it was in California well over 10 years ago. Needless to say, it was like coming to Valhalla. Really I was only there to pick up a multi memory card reader because the one I packed didn't work. It works now, with a tear in my eye.
After some tasty grub at the Mellow Mushroom (now the annual tradition), we made our way tot he convention center and I pulled into the Programming and Minimalism: Lessons from Orwell & The Clash talk. What this talk boiled down to was simple. What I mean was that the simplest and most basic solution to any type of programming is the best. If you try to be clever, then you might lose others and actually add more time to build a system. KISS principal explained, in other words.
Next up for me, after some Circus Mashimus trolling, was the Expressing Yourself Musically with Mobile Technology talk. This talk talked about the difference between desktops and mobile operating systems and how it caused developers to think differently on application development. What I got out of it was that the smaller and more networked mobile devices were more of an expressive tool than a computative tool. That is to say, people use desktops to immerse themselves in work and people us mobile devices as an extension of themselves. And it was all done under the scope of a ton of Smule applications, including I Am T-Pain.
I was going to go to some talk about being a Bear in an organization and I decided to skip it. After some registrants' tent ticket punching, I made and way to PubCamp and promptly fell asleep. We doubled back to the Sapient Nitro opening event and I have to say it was the best party of the night. Not only was the carnival atmosphere festive, the activities and peeps there made it way more entertaining. The Ignite Social Media Party was decent but too far away and the Music + Mobile Party at the Phoenix had high hopes and did not meet my expectations.
Today I'm reminded why I had such a blast year at SXSW. It's Spring Break for technology professionals ( and later on next week, musicians). So here I am wrapping up a first half day and I'm wiped out. The time already was totally worth it and I'm just getting started. Tomorrow will be a full day and hopefully both my feet and myself can stay awake for all of the glory. Keep your toes crossed.